CRANSTON wins award for Wrightsboro Road project
CRANSTON is very proud or our recent industry award from the American Council of Engineering Companies (ACEC) Georgia.
At the ACEC Engineering Excellence Awards spring event, we were presented the award for Innovative Solution to a Design Problem from the Georgia Partnership for Transportation Quality for our work on the Wrightsboro Road Contraflow Left Interchange and Pedestrian Improvements project.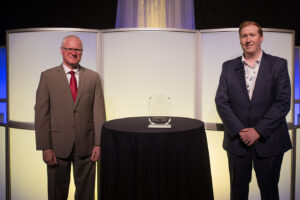 ACEC Georgia advocates for public policy and legislation that will improve the business climate for the engineering industry, promote economic development and protect the integrity of the engineering profession. For more information, go to www.acecga.org.
Founded in 1967, CRANSTON provides civil engineering, structural engineering, planning, land surveying and landscape architecture services throughout the Southeast. CRANSTON has offices in Augusta, Charleston and Hilton Head. For more information, go to CranstonEngineering.com and find CRANSTON on Facebook and LinkedIn.