Paceline announces final total donation, Cranston preps for 2020 ride
Cranston Engineering proudly participated with bicycle riders and virtual riders to help raise awareness and collect much needed funds for life-saving cancer research at the Georgia Cancer Center through the 2019 Paceline community ride event. Our team exceeded a goal of  raising $4,000, and the final total was announced recently. With Paceline 2019 officially at a close, the Cranston Team raised a final total of $6,267 for cancer research.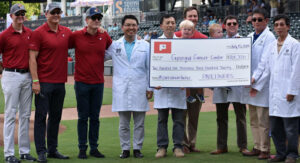 As a whole, Paceline raised $201,320, and this money will go directly to the Georgia Cancer Center located in Augusta, Georgia. Each individual, each donation, and each mile contributed to this incredible gift.
Cranston Engineering appreciates the employee and community support it received, and the staff are already preparing for Paceline 2020! The two-day event will take place next spring on May 29 and May 30,2020.
To learn more about Paceline, CLICK HERE. In the near future, we will announce ways you can donate and support our team.
Our previous blog post about our fantastic team of riders and virtual riders can be found HERE.